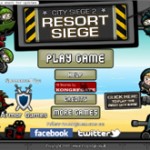 City Siege 2: Resort Siege is a side scrolling action shoot-em-up flash game that lets you assemble an elite team of soldiers to rescue civilian hostages and kill the bad guys.  The game has a heavy sound track with ironically cute/cartoonish looking characters.  The beginning is fairly fast paced, although in later stages it can become frustrating/annoying if you are attempting to get a gold metal.  You are allowed to have up to 5 units in your team from 12 different units.  The units each have their unique capabilities however I found myself mainly using the spy, commando and heli-r.
Note: do not call an air strike right after you select your unit at the beginning of the stage unless you want it to end badly.
Also, watch for friendly fire.  Try not to fire a rocket at the bad guy when he is surrounded by hostages.